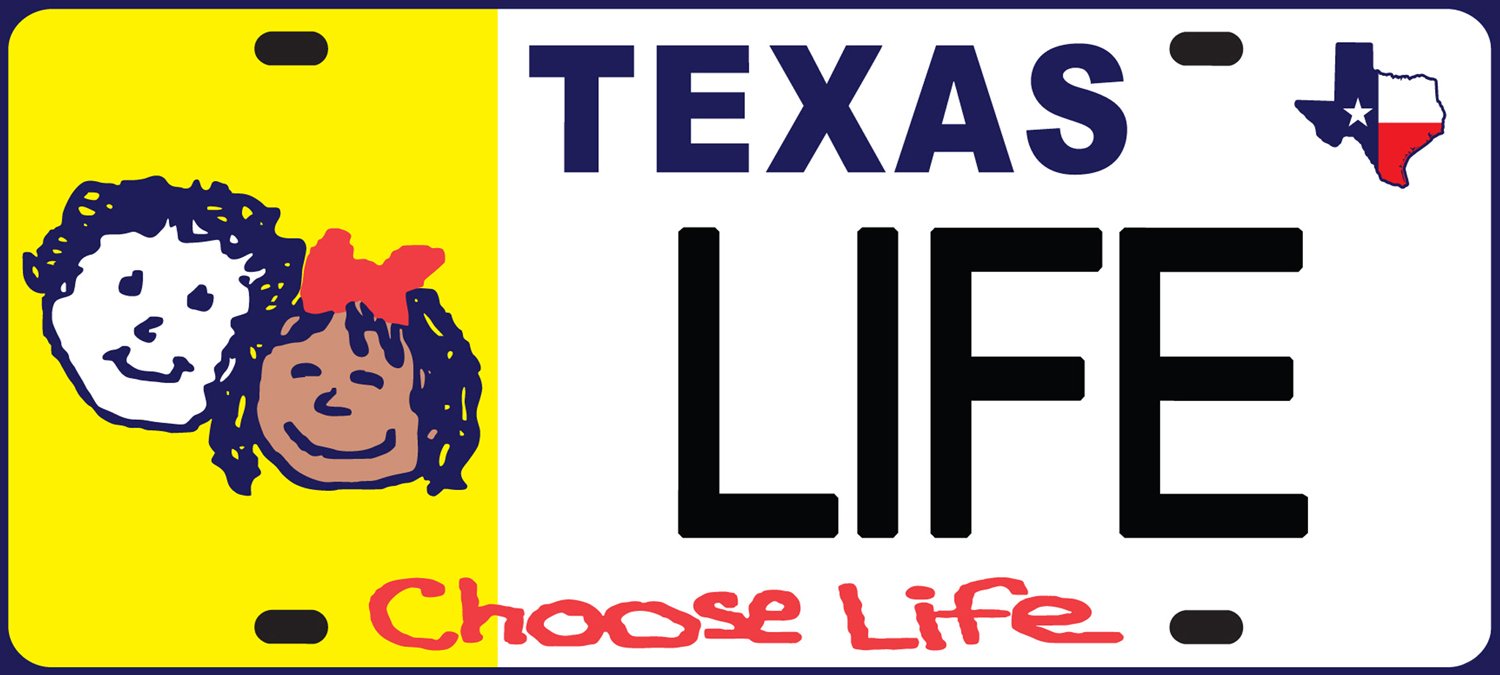 Texas Attorney General Ken Paxton announced the appointment of seven members to the Choose Life Advisory Committee, which helps the Office of the Attorney General administer funds raised by the sale of Choose Life specialty license plates. The funds are used to promote adoption as an alternative to abortion. 
I'm pleased to appoint these talented and passionate individuals who share my commitment to protecting the sanctity of life and dedication to improving the lives of Texas children," Attorney General Paxton said. "I'm grateful that they're volunteering their time to help plan and carry out efforts to promote adoption in Texas, and bring families across our state the most wonderful gift of all: the love of a child." 
Choose Life specialty license plates, created in 2011 by SB 257, went on sale in November 2011. Funds from the account are distributed via a grant application process that is administered by the OAG, with the advice of the Committee. 
Following are brief profiles of each "Choose Life" Advisory Committee member: 
Judy Canon
Mrs. Canon has been involved in various aspects of the adoption process for more than a decade. She has served as an adoption counselor with birthmothers; taught and advocated for adoption awareness at the organizational level and through the media; worked with adoptive families, conducting home studies and supervisory visits; and worked with counselors, medical professionals and others who are involved in the decision-making process for adoptions. Mrs. Canon served from 2003-2005 as a master trainer for the National Council for Adoption's Infant Adoption Awareness Program, and from 2000-2010 as a regional coordinator for the Gladney Center for Adoption.
Danielle Capper Buck
Danielle is the Senior Director of External Relations for Concerned Women for America (CWA), the nation's largest public policy women's organization that strongly advocates for pro-adoption, pro-life policies on both state and federal levels. A native of Fort Worth, Texas, Danielle graduated from Southern Methodist University and later received her MBA from Northwood University. She has vast experience in media relations, TV news reporting, medical sales, image consulting and strategic marketing, and development. Danielle experienced a strong call from God on her life to use her experience and voice for life-affirming efforts and began working for CWA. She has been an active member of the Dallas-based group, Council for Life. Danielle was raised in a family that was always involved in pro-adoption and pro-life endeavors which have guided her life's work. Danielle resides in Fort Worth, Texas near her family and frequently travels across the country for her job. 
Lisa Luby Ryan
Her association with e3partners, a media-based ministry, began with the filming of her personal testimony, which led to her serving as national spokesperson for their iamsecond.com campaign. Lisa received the Norm Miller Award, given to a person demonstrating a bold faith and impacting lives through their professional and personal life. Her personal testimony also aired on the 700 Club and is archived at www.cbn.com. As a result of national media exposure, Lisa travels extensively to share God's redemption and her story of Life. Lisa and her husband, Jay, are parents to Kyle (now married to Sarah Jo) and Casey. Although her business and community endeavors have enriched her life and others, her top priorities remain faith and family. Currently Mrs. Ryan is an acclaimed interior designer and lives in Dallas. 
Lauren Enriquez
Lauren Enriquez grew up in Houston, Texas and graduated from Ave Maria University with a degree in Classics and Early Christian Literature. Lauren was involved in a pro-life youth group in high school, AMU Students for Life in college, and took a semester off from university to serve as a field agent for SFLA in 2008. Lauren has appeared on EWTN, various podcasts and radio shows, and has written for outlets including The New York Times, Crisis Magazine, The Human Life Review, Townhall, and The Stream. Lauren currently resides in Texas and serves the Pro-Life Generation as Students for Life's Deputy Media Strategist. This work includes coordinating with media to speak into cultural conversations around abortion, and assisting with written communication and effective messaging strategies.
Chelsey Youman
Chelsey Youman, Esq., serves the pro-life coalition, as well as women and their preborn children, by advocating for pro-life policies and jurisprudence; mobilizing and unifying local grassroots to strengthen the pro-life movement and its footprint; and engaging with the public to ultimately strengthen our community's desire to enable women and protect preborn children. Chelsey's professional experience includes working as senior counsel and chief of staff for First Liberty Institute, concentrating on religious liberty matters and First Amendment rights. At First Liberty Institute, she litigated on behalf of and advised hundreds of clients regarding conscience rights nationwide. Chelsey has also worked in private practice, where she successfully litigated corporate fraud matters, complex commercial litigation, and consumer rights issues in both federal and state jurisdictions. Chelsey holds a Bachelor of Arts degree in Political Science from Texas A&M, and a J.D. from Southern Methodist University. Chelsey is happily married with two children. Her family is active in their church, serving in the premarital and pro-life ministries there. They enjoy traveling, adventuring, and eating good food.
Melissa Conway
Melissa Conway has vast experience in creating and delivering marketing, communications, and fundraising plans for Fortune 500 corporate clients and non-profit organizations across the country. As an effective and influential brand architect, she has successfully advanced and protected her clients' interests while simultaneously directing and growing their public impact. Conway has over 20 years of experience influencing key opinion leaders, advancing legislative priorities, and developing and executing political, public relations, fundraising, messaging, and policy strategies on local, state, and national levels. She has served as a spokesperson and media liaison for several Pro-Life, grassroots, and advocacy organizations where she was interviewed and featured on statewide, national, and international media outlets. Conway has excelled in government relations, thought leadership, public affairs, crisis communications, PR and media relations, business development, political action committees, and strategy development while sharing organizational missions in a compelling, engaging way that inspires involvement. At the heart of Conway's work, her mission is to advance and expand advocacy and non-profit organizations' effectiveness by propelling them to the highest level of influence and recognition while making a positive global impact. Conway has a demonstrated commitment to servant leadership and has served on the board of several non-profits.  She is a co-founder and former Board President of a multi-faceted Pro-Life non-profit that stands in the gap for at-risk, vulnerable babies and children by providing hope, resources, training, and healing initiatives for families in need.