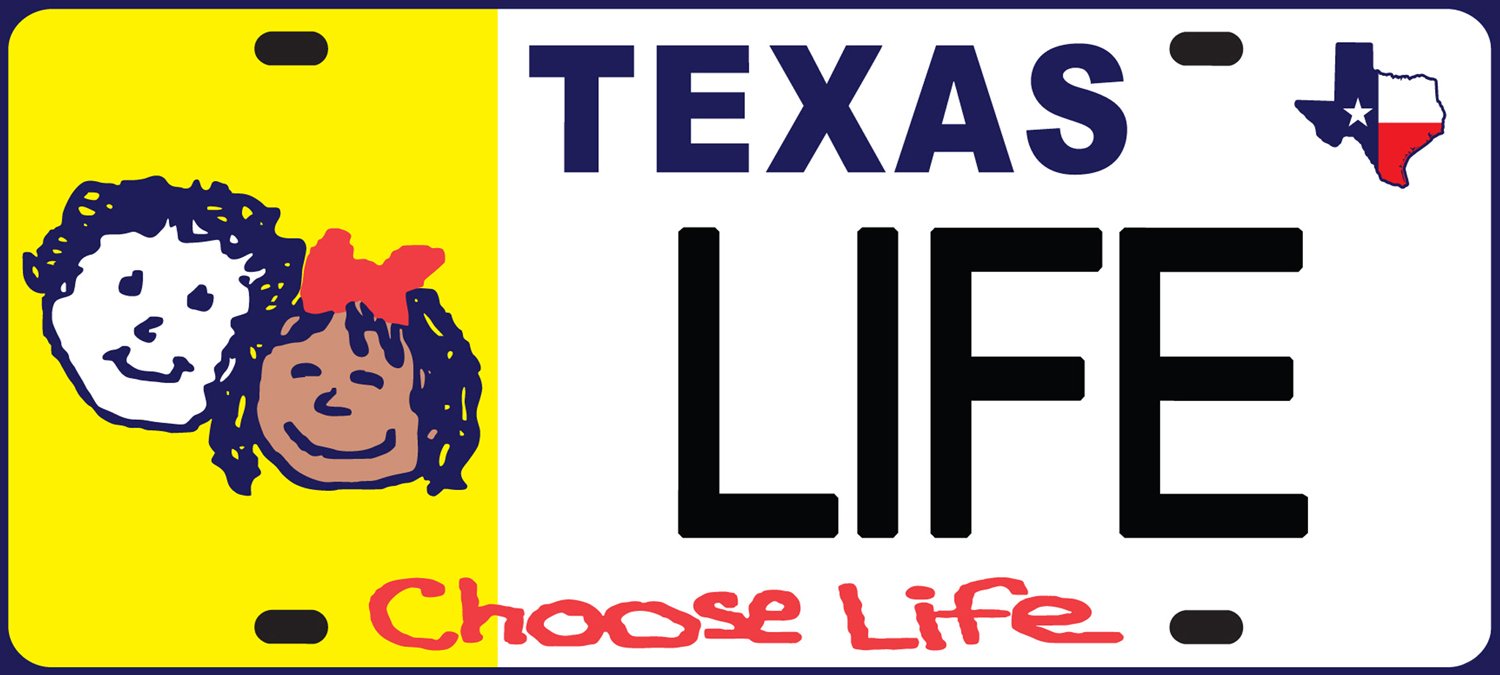 Texas Attorney General Ken Paxton announced the appointment of seven members to the Choose Life Advisory Committee, which helps the Office of the Attorney General administer funds raised by the sale of Choose Life specialty license plates. The funds are used to promote adoption as an alternative to abortion. 
I'm pleased to appoint these talented and passionate individuals who share my commitment to protecting the sanctity of life and dedication to improving the lives of Texas children," Attorney General Paxton said. "I'm grateful that they're volunteering their time to help plan and carry out efforts to promote adoption in Texas, and bring families across our state the most wonderful gift of all: the love of a child." 
Choose Life specialty license plates, created in 2011 by SB 257, went on sale in November 2011. Funds from the account are distributed via a grant application process that is administered by the OAG, with the advice of the Committee. 
Following are brief profiles of each "Choose Life" Advisory Committee member: 
Judy Canon - Midland
Mrs. Canon has been involved in various aspects of the adoption process for more than a decade. She has served as an adoption counselor with birthmothers; taught and advocated for adoption awareness at the organizational level and through the media; worked with adoptive families, conducting home studies and supervisory visits; and worked with counselors, medical professionals and others who are involved in the decision-making process for adoptions. Mrs. Canon served from 2003-2005 as a master trainer for the National Council for Adoption's Infant Adoption Awareness Program, and from 2000-2010 as a regional coordinator for the Gladney Center for Adoption.
Danielle Capper - Fort Worth 
Danielle is the Senior Director of External Relations for Concerned Women for America (CWA), the nation's largest public policy women's organization that strongly advocates for pro-adoption, pro-life policies on both state and federal levels. A native of Fort Worth, Texas, Danielle graduated from Southern Methodist University and later received her MBA from Northwood University. She has vast experience in media relations, TV news reporting, medical sales, image consulting and strategic marketing, and development. Danielle experienced a strong call from God on her life to use her experience and voice for life-affirming efforts and began working for CWA. She has been an active member of the Dallas-based group, Council for Life. Danielle was raised in a family that was always involved in pro-adoption and pro-life endeavors which have guided her life's work. Danielle resides in Fort Worth, Texas near her family and frequently travels across the country for her job. 
Janan Grissom - Austin 
Janan has led a life dedicated to public service and being a personal advocate for pro-adoption efforts. Growing up with an adopted brother, and currently experiencing an open-adoption within her immediate family, Janan has seen first-hand the positive aspects of adoption. Family values have guided her life's work all the way to the White House. In January 2001, Janan began her work in public service and moved to Washington, DC to serve as Deputy Director of the White House Visitor's Office working directly under First Lady Laura Bush. She later served as the White House Liaison and Director of Protocol at the U.S. Department of the Treasury under the Bush Administration. She has held senior level positions for multiple U.S. presidential campaigns, served in the Texas Governor's Mansion, worked as an independent consultant for public offices and campaigns, and most recently was on the 2017 Houston Super Bowl Host Committee. Janan has continuously supported pro-adoption organizations and is able to use her extensive experience to aide and provide insight to their efforts. She is happily married to her husband Gary of 46 years. They live in Austin, Texas and have 3 children and 5 grandchildren. 
Lois Kerschen - Lubbock 
Ms. Kerschen has experience in grants administration, early childhood issues and sanctity of life issues. She is a certified grant writer who served as associate director of graduate studies and research at Lamar University. She also served as a grants administrator for the Houston Independent School District, where she wrote and reviewed grant proposals. In addition, she served as a senior research scientist for The University of Texas Health Science Center at Houston, where she wrote and edited early childhood education journal articles, grant proposals and training manuals. Ms. Kerschen is a former board member for Right to Life of Lubbock, and served as a counselor for a pregnancy resource center. She is a longtime member of Feminists for Life and an advocate of their varied services for women on health care, education, child care and other issues. Ms. Kerschen is also co-founder and a board member for Democrats for Life of America, which advocates for the protection of human life as the foundation of human rights and the principle that injustices such as poverty and prejudice directly and indirectly threaten human life. She also serves as president of Democrats for Life of Texas, which is the state chapter of Democrats for Life of America.  
Lisa Luby Ryan - Dallas 
Her association with e3partners, a media-based ministry, began with the filming of her personal testimony, which led to her serving as national spokesperson for their iamsecond.com campaign. Lisa received the Norm Miller Award, given to a person demonstrating a bold faith and impacting lives through their professional and personal life. Her personal testimony also aired on the 700 Club and is archived at www.cbn.com. As a result of national media exposure, Lisa travels extensively to share God's redemption and her story of Life. Lisa and her husband, Jay, are parents to Kyle (now married to Sarah Jo) and Casey. Although her business and community endeavors have enriched her life and others, her top priorities remain faith and family. Currently Mrs. Ryan is an acclaimed interior designer and lives in Dallas.