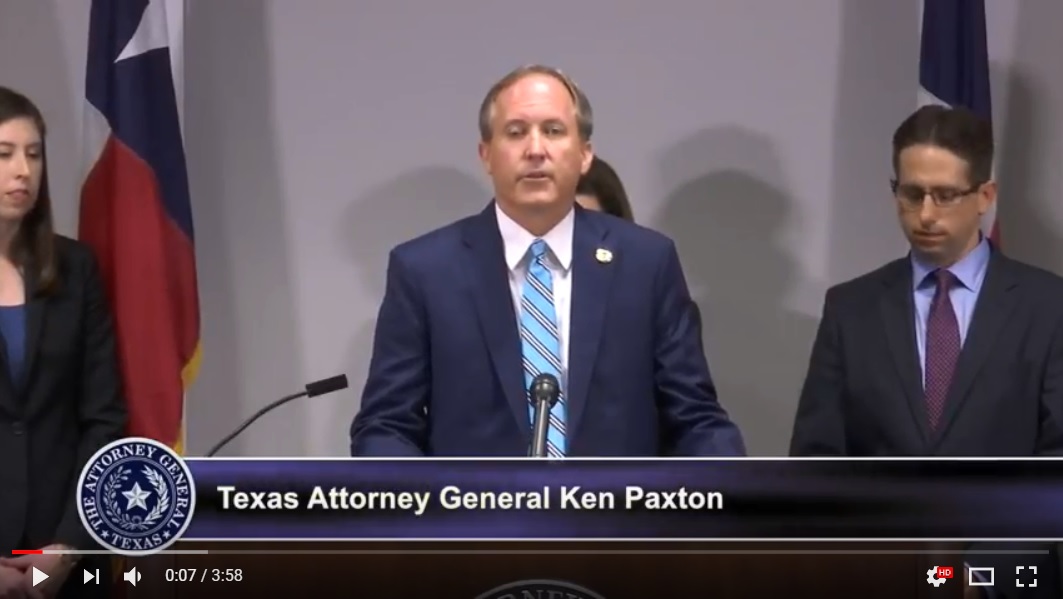 At a press conference today, Attorney General Ken Paxton announced that his office filed a consumer protection lawsuit in Travis County District Court against Purdue Pharma for violating the Texas Deceptive Trade Practices Act (DTPA) involving the company's prescription opioids, including OxyContin. The attorneys general of five other states took similar legal action today against the Stamford, Connecticut-based pharmaceutical giant.
"My office is holding Purdue Pharma accountable for fueling the nation's opioid epidemic by deceptively marketing prescription painkillers including OxyContin when it knew their drugs were potentially dangerous and that its use had a high likelihood of leading to addiction," Attorney General Paxton said. "As Purdue got rich from sales of its opioids, Texans and others across the nation were swept up in a public health crisis that led to tens of thousands of deaths each year due to opioid overdoses."
Sales of Purdue Pharma opioids are worth billions of dollars every year nationwide. Attorney General Paxton's lawsuit seeks significant penalties from the company for its illegal conduct, and a permanent injunction to prevent future harm to Texans. The alleged violations of DTPA by Purdue include:
Misrepresenting or failing to disclose the risk of addiction of opioids;
Misrepresenting that there is no "ceiling dose" of their opioid drugs—falsely representing that doctors and patients could increase opioid dosages indefinitely without risk;
Making false, unsubstantiated representations about "pseudoaddiction," and falsely representing to doctors that common signs of addiction in patients are actually signs that the patient needs a higher dose of opioid;
Falsely representing that Purdue's abuse-deterrent formulation of OxyContin reduces the risks of OxyContin, including the risk of addiction;
Opioids are a family of drugs that include prescription painkillers such as OxyContin as well as illegal drugs like heroin. Each day, 115 Americans die of opioid overdoses. Nationwide, there were 42,249 opioid overdoses in 2016, including 1,375 opioid-related deaths in Texas. The death toll attributed to opioids in the U.S. has quadrupled over the last two decades.  
Starting last year, Attorney General Paxton and a bipartisan group of 40 other state attorneys general have been conducting an investigation into whether companies that manufacture and distribute prescription opioids engaged in unlawful practices. Purdue Pharma alone faces more than a dozen lawsuits by states including Texas. Other investigations remain ongoing.
The Texas lawsuit accuses Purdue Pharma of using a marketing campaign to convince doctors and consumers that their opioid drugs are effective for treating long term pain and have a low risk of addiction. However, the Centers for Disease Control (CDC) noted in its 2016 guidelines that "there is no good evidence that opioids improve pain or function with long-term use." Other, safer drugs, such as acetaminophen or non-steroidal anti-inflammatory drugs like ibuprofen, are effective and carry fewer risks, according to the CDC.
Last October, President Trump officially declared the opioid epidemic a national emergency, noting that two million Americans suffer from addiction to prescription or illicit painkillers. In Texas, non-fatal opioid costs to the state are around $20 billion annually, according to research from the American Enterprise Institute. Of the top 25 cities for opioid abuse, four are in Texas – Texarkana, Amarillo, Odessa, and Longview. Texas' Maternal Mortality and Morbidity Task Force reported that "overdose by licit or illicit prescription drugs" is a leading cause of maternal deaths in the state.
View a copy of the lawsuit here.
View a video of the press conference.
View FAQs on the opioid crisis here: https://www.texasattorneygeneral.gov/initiatives/opioid-crisis