Texas Attorney General Ken Paxton announced the Attorney General's Child Exploitation Unit successfully executed a search warrant at a residence in Corpus Christi resulting in the arrest of Francisco Granillo Jaczan, 47, for three counts of Possession of Child Pornography.  It was the second arrest for Possession of Child Pornography this week in Corpus Christi following an investigation by the Child Exploitation Unit. 
A search of Jaczan's digital storage devices revealed multiple images and videos of child pornography, and he was booked into the Nueces County Jail.  
"No matter where in Texas these predators may be, we will find them and bring them to justice," said Texas Attorney General Ken Paxton. "I commend and thank the law enforcement professionals who tirelessly dedicate themselves to finding dangerous criminals and taking them off the streets."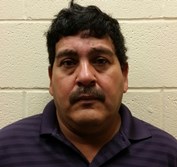 Texas Attorney General's Office works to protect children by taking child predators off the Internet and into jail, proactively seeking out and arresting predators who commit crimes against children using technology and the Internet. They utilize the latest technology to track down some of the most profoundly evil predators on the Internet.
Texas Attorney General Ken Paxton urges all parents and teachers to realize the risks our children face online, and take steps to help ensure their children's safety. Find more information on cyber safety