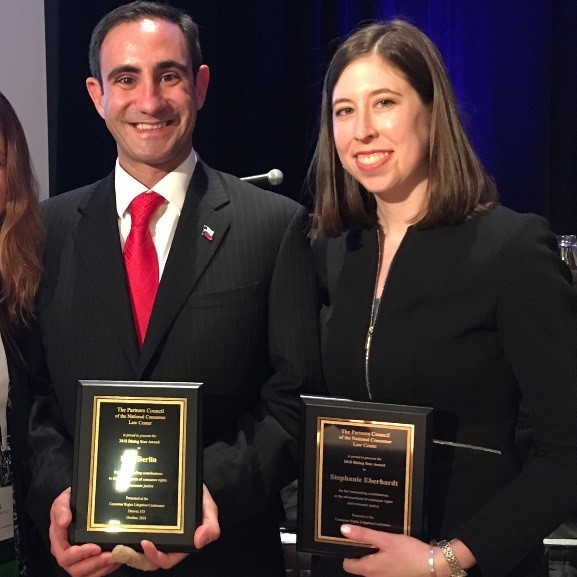 The Texas Attorney General's Office today announced that Consumer Protection Division Assistant Attorneys General Rick Berlin and Stephanie Eberhardt received the prestigious Rising Star award from the National Consumer Law Center (NCLC).
NCLC honored Berlin and Eberhardt for their collaborative work prosecuting the unscrupulous owner of a debt collection agency – Samra Portfolio Management – that took advantage of unsuspecting Texans. In July, they obtained a $25 million judgment for the state of Texas in a case that lasted four years and involved dozens of depositions before finally ending in a three-week jury trial.
"It's gratifying that Rick and Stephanie's hard work and persistence to deter and halt unlawful debt collection practices have been recognized on a national level," said Consumer Protection Division Chief Paul Singer. "This was truly a team effort by our office to help protect consumers, which is an essential function of the attorney general's office."
Established in 2015, the Rising Star award is presented annually by the NCLC's Partners Council. The award honors attorneys who've practiced law 15 or fewer years and have made major contributions to consumer law by trying or settling a case of great success and significance.
Berlin and Eberhardt received the award Thursday night during the NCLC meeting in Denver, Colorado.