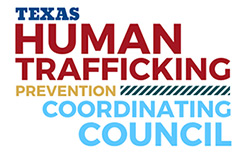 Thank you for reaching out to the Office of the Attorney General regarding the survey administered by the Texas Human Trafficking Prevention Coordinating Council.
We are providing the following list of frequently asked questions in the hope of helping you complete the survey to the best of your ability.
Further Questions? Please contact the Coordinating Council Helpline or call 800-252-8011.   We will do our best to assist you as questions arise and will respond as soon as possible to your inquiry.
Thank you again for helping us complete this critical undertaking that will impact human trafficking programs and efforts statewide for years to come!
Sincerely,
The Texas Human Trafficking Prevention Coordinating Council