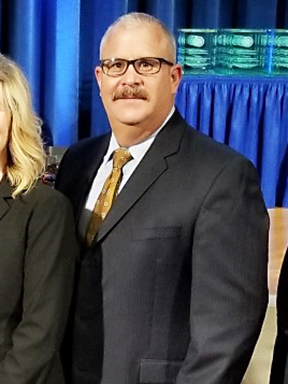 Attorney General Ken Paxton today announced that Sergeant David Samaniego from the Law Enforcement Division of his office received the Financial Crimes Enforcement Network (FinCEN) Director's Award for his outstanding leadership on an investigation to stop a major drug-money laundering scheme.
Sgt. Samaniego serves in the Law Enforcement Division's Money Laundering and Organized Crime Unit and is assigned as a full-time task force officer with Homeland Security Investigations in El Paso.
Starting in 2016, Sgt. Samaniego led a collaborative law enforcement investigation – dubbed Operation Green Hill – that caught a money launderer working for a Mexican drug cartel. The De La Cruz-Aguilar cartel smuggled an estimated 200 kilograms (nearly 441 pounds) of illegal drugs through the El Paso ports of entry every month. Marijuana and cocaine were sold from North Carolina to El Paso, and hundreds of thousands of dollars from drug deals were laundered through various financial institutions and sent back to Mexico.
Operation Green Hill effectively crippled the cartel, whose leader, Raul Angel De La Cruz-Aguilar, was indicted on multiple counts of money laundering and narcotics smuggling charges. He remains a wanted fugitive in Mexico. Nine co-conspirators, including the money launderer in El Paso, were arrested, convicted and are serving sentences ranging from 24 to 151 months in federal prison.
Sgt. Samaniego received his award in Washington, D.C., yesterday during a ceremony hosted by FinCEN, a bureau of the U.S. Treasury Department. FinCEN's mission is to safeguard the U.S. financial system from illicit use and combat money laundering.
Last month, Homeland Security Investigations in El Paso presented Sgt. Samaniego with two awards for his work on Operation Green Hill – Partner of the Year and Financial Crimes Case of the Year.  
"Sergeant Samaniego's leadership on Operation Green Hill helped law enforcement root out a serious money laundering operation associated with a dangerous Mexican drug cartel, and I'm pleased that his hard work has been recognized with national and regional awards," Attorney General Paxton said. "The volume of drugs moved by the cartel endangered the health and welfare of Texans and others. Texas is a safer and better place because of Sgt. Samaniego's work, and I am grateful to all those in law enforcement who serve the people of our state."